Admit it or not, it's better to hire a pest control professional than to do the frustrating work by yourself.
Using pest control products can potentially expose your family and pets to danger, especially if you aren't skilled and equipped enough for the job.
Hiring a pest control company near your location can be tricky since some pest control methods require specific licenses. If you're looking for local exterminators, keep the following considerations in mind:
1. License
Every U.S. state requires professionals offering pest control services to obtain a proper license through their state's Department of Agriculture.
In Arizona, there are three pest control applicator license categories:
Certified applicator license. Authorization to apply restricted-use and general pesticides as staff of a licensed pest control business
Certified qualified applicator license. In addition to the certified applicator license, this certification also authorizes a professional to register as a qualifying party of a business licensee.
Pesticide business license. Authorization to own a pest control management business.
2. Liability Insurance
Pest control service is always dangerous. Find a local exterminator with liability insurances that would assure you that you won't be liable if they encounter any injuries or accidents while they're working in your home.
3. Integrated Pest Management Techniques
Integrated Pest Management (IPC) combines both the common sense and scientific knowledge of a pest exterminator.
You'll know if an exterminator can do a great job if he has the following traits:
Can identify the pest in the most specific terms possible
Can easily spot the entry points of pests like termite, bed bugs, rodent, and cockroaches
Has enough knowledge about the pest's habits, life cycle, and behavior, and
Can offer harmless pest control methods first before using chemical pesticides.
4. Professional Appearance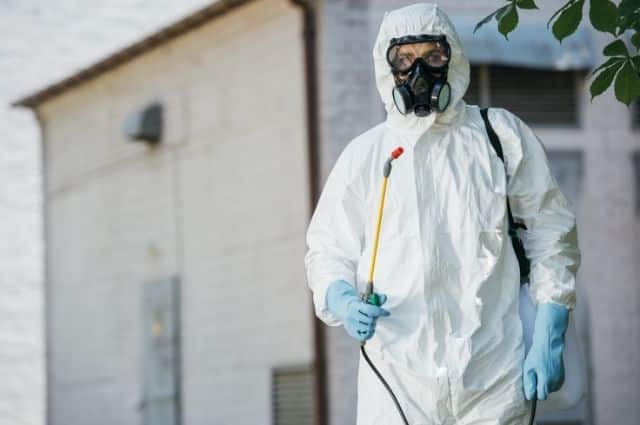 It would be hard to believe if the people who would protect your home and business from bed bugs and termite damages do not look professional at all.
When they visit your home, they have to be in their proper service company uniforms. Their truck, equipment, and pest control products should also look professional.
5. References
Before booking a pest control service, first ask for referrals for local exterminators from your friends and neighbors. You can also do the background check by calling your state's pest control association for a list of legitimate and reputable pest control companies.
You can also ask for referrals directly from your prospect company. If they have a good reputation, they would gladly provide them immediately.
6. Rates and Services
Just because a company's asking price is cheaper than others, doesn't mean you've got the best deal. Discuss your pest problems thoroughly with the exterminator and the services they can provide for you.
Their proposal shall include details, such as their treatment plan, timeline, methods to be used, and price breakdown.
Compare the proposals of your prospect companies carefully before choosing the best one for you.
7. Guaranteed Satisfaction
Some companies include "Guaranteed Satisfaction" in their marketing but do not really adhere to it. Make sure to read their proposal carefully and the terms for their guarantee.
Hire the Best Pest Exterminator in Prescott Valley, Arizona!
If you're near Prescott Valley, Arizona, you no longer have to worry about finding the right pest exterminator… Patriot Pest & Termite Control are the real pros when it comes to anything related to pests!
We are the top pest control company in Prescott, AZ composed of qualified licensed and insured professionals with over 25 years of service experience.
Call us to free yourself from all your pest problems today!
Got any questions about the qualifications of local exterminators in Prescott? Leave a comment below, and we'll get back to you!