Bothered by the chewing sounds in your walls lately? Saw a few holes in your wood walls?
Bad news: Termites may have invaded your household.
According to a Consumer Affairs report, termites damage around 600,000 homes in the U.S. annually, and residents usually spend $5 billion on termite control and repair service.
If you want to protect your home and spare yourself from the scary, unwanted costs caused by termite infestation, call an exterminator for a termite inspection as soon as you notice any signs of an invasion.
Read on to find out the things you should prepare and expect during a termite inspection!
How You Can Prepare for a Termite Inspection
You'll need to move and clear some things at your home before an exterminator arrives. Prepare the following to help the expert inspect your home smoothly:
Rearrange some items. Any items placed against the walls inside and outside your home, including your garage, should be moved. The inspector will also check any termite activity in your water sources, so you also need to move anything stored under the sinks in your kitchen and bathroom.
Make your attic accessible. Attics are part of all termite inspections. Make sure to remove any blocks in your attic's entrance. The inspector will also check any termite activity in your water sources, so you also need to move anything stored under the sinks in your kitchen and bathroom.
Check your crawl space foundation. Check the crawl space in your home's foundation and clear the items that are blocking the opening or anything that will disrupt the inspector's work.
Trim your plants. Check the landscape near your exterior walls and trim any bushes that are covering them.
5 Things an Exterminator Will Do During Termite Inspections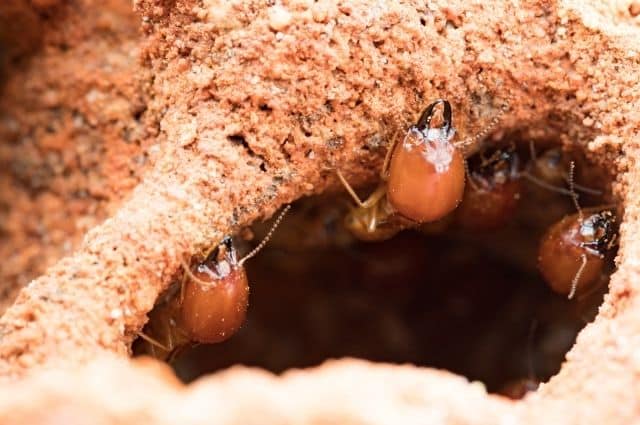 Termites are scary, sneaky pests that can cause extensive damage to your home.
If you do your regular pest control at home, you can notice early signs of termites. Although there are pest control methods that you can do by yourself, calling an expert is still the best way to make sure that you will be completely free from these unwanted visitors.
A termite inspection usually takes 1-2 hours, depending on the size of your property. Pest control professionals will not only diagnose any termite problems in your home but will also look for infestation signs of other pests.
If you're anticipating a termite and pest control inspection at your home soon, here are the 5 things that the exterminator will do during the checkup.
1. Check Any Signs of Swarmers and Mud Tubes
The exterminator will access and inspect all parts of your house, both interiors and exteriors. They will check for any signs of swarmers or winged termites, as well as mud tubes.
Mud tubes are the covered highways termites use to enter any open spaces in your home. They are made of soil and wood cellulose and are located along your foundation, or near your pipes, crawlspace, attic, or in other entry points of your home.
These mud tubes are typically built by subterranean termites nesting underground. They use these tubes to connect their nest to a wooden food source and protect themselves from open air.
Swarmers, on the other hand, are young reproductive species that are very active during springtime to mate and search for a new home.
These swarmers can be seen flying near your closed windows, doors, and other entry points. If not, the inspector will check if there are any discarded wings. They usually twist their wings to discard them when they land on your property.
2. Look for Mud in Construction Joints
Termites can build and seal small gaps with dirt for a more comfortable entry point. If you see any dirt buildup in any small holes or mud crammed in construction joints, the chances are high that you have been infested with these pests.
3. Examine Wood Structures
Subterranean termites are known as wood-destroying pests. They penetrate and eat wood from the inside.
If the inspectors have seen any signs of termites at your home, they will check for any signs of wood damage. Damaged wood will sound hollow and may break with a few taps.
Wood products that aren't termite-resistant are highly vulnerable to damages.
4. Provide a Termite Inspection Report
After the inspection, expect a detailed report from the service provider after two to three days.
The report includes a diagram of your house to know the severity of damages and identify heavily-infested areas.
5. Create a Termite Treatment Plan
Their job doesn't end after the inspection and report. The experts will provide you with a treatment plan, personalized according to your household's needs.
Termite inspectors will plan the treatment and work with you according to your budget.
How much does it cost to check for termites?
According to Home Advisor, the average termite inspection cost ranges from $50-$280, depending on the property size and the treatment needed later on.
Although this may seem pricey for some, termite and pest inspections are worth it. Considering that termites alone cause over $5 billion in property damage annually to homeowners in the United States, investing in pest inspections are totally worth it to keep your home pest and damage-free.
Hire the Best Pest Control Expert in Prescott, AZ
Allowing a termite inspection in your home is necessary to know the exact condition and severity of termite infestation and damages. Make sure to look for a licensed and seasoned exterminator to do the work for you.
If you're looking for the best exterminator in Prescott AZ, Patriot Pest and Termite Control is here to assist you.
We are a trusted, licensed, and experienced Prescott Valley-based pest and termite control service company. Our services include residential, business, new construction, emergency, and preventative pest control.
Call us today to schedule an inspection and experience our top notch pest control services.
Have you experienced a termite inspection in your household before? Share your insights in the comments section below!