Are you planning to build your new house soon?
Looking for a pest control company to help you keep your home free from pests?
Investing in a new home costs a lot of money, and you wouldn't like to spend more later when termites and pests start damaging your property.
Americans spend an average of $5 billion in property damage annually due to termites alone. This cost is usually not covered by homeowners' insurance.
Since termites live within walls and pieces of furniture, most homeowners don't notice any damages until they are fully mature. When these pests mature, they will feed on the walls and wood furniture every day, leaving undetected impairments in your house.
Read on to find out the best pest control methods to do on the construction stage of your home and prevent further infestation damages in the future.
We'll also give you tips on finding the best pest control companies in Prescott, AZ for the pest control needs of your new home project!
Does a New Home Need Termite Treatment?
The answer is yes.
Many people still think that pest, termite infestations are not possible until home construction is complete.
Termites can destroy a new property even before it's fully built. Pre-treating the area of your new construction can drastically decrease the chances of termite infestation in your newly constructed house.
What Attracts Termites?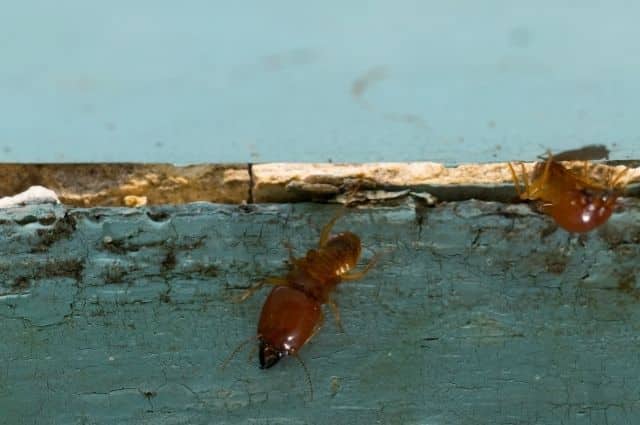 Moisture. Dampwood and subterranean termites like humid environments, especially in water-damaged wood. The moisture from leaky pipes, poor airflow, and impaired drainage can attract these pests.
Woods touching house foundation. A subterranean termite moves through wood and soil to get inside a house, so beware of any pieces of wood that are in contact with the foundation.
Cracks in exteriors. Any cracks on your home foundation, windows, and doors can serve as the entry points for pests.
What Are the Best Termite Treatments for New Construction?
Here are the two effective pest management techniques for your newly-constructed home:
Liquid Soil Treatment
This treatment uses an Environmental Protection Agency (EPA)-approved termiticide in stages, from pre-construction to final grading.
First stage: The exterminator will apply the termiticide to treat the soil before pouring in the foundation or slab.
Second stage: After grading the land, installing the foundation form, and digging the footings, termiticide should be applied again to treat the area at a rate of one gallon of chemical solution per every ten square feet.
Third and last stage: Treating the surrounding soil after pouring the footings and completing the foundation. This stage ensures that termites cannot make their way even if the slabs crack later because the surrounding soil is fully-treated.
Your preferred exterminator should work together with the builder to accurately conduct this pest control treatment.
Borate Termite Treatment
In this technique, your exterminator will use natural borate to treat all the wood pieces that are in contact with the foundation of your newly built house.
This method is done after the dry-in and before installing any drywall.
Other Pests That Can Infest Your New Construction Homes
Aside from termites, these are the common pests that can infest newly constructed homes in Prescott Valley:
Ants. Ants can easily infest your new property due to the disturbance of their existing mounds during construction or through the building materials used.
Rodents. Just like ants, roaches can easily enter your new construction anytime. Constructions can disturb their habitats. If your new house has holes and gaps, mice and other pests can easily relocate inside. Make sure to consult a rodent control expert to clear their infestation right away!
Scorpions. Scorpions are rampant pests in Prescott Valley. We highly recommend that you keep extra precautions and ask help from a pest control pro to prevent this unwelcomed crawlies inside your new house.
How To Find the Best Pest Control Companies for Your New Home In Prescott, AZ
There are many pest control companies in Prescott, AZ with different approaches to their pest management services.
To hire the right pest control company for your newly-constructed home, we highly recommend that you consider the following factors:
License and liability insurance. Check the pest control applicator license and insurance guidelines in Prescott, AZ.
List of pest control service and rates. Compare their treatment plan, timeline, and quotes.
Years of experience. Go for a team with more years of experience in the field
Integrated Pest Management Techniques (IPC). Do they have expert knowledge about pests? Can they offer you harmless pest control methods?
The professionalism of the staff. Take a look at how they present themselves as pest control professionals to you.
Responsive customer service. Do they have a reliable customer care service team?
Referrals. Consult your friends, family, or neighbors about the pest control companies that they highly recommend.
Satisfaction guarantee. Some companies offer a money-back guarantee for their services. Check their proposal carefully to know if they really adhere to it.
The Best Pest Control Company in Prescott, AZ
Although the pest and termite treatments mentioned above are effective since they can last approximately two to five years, inspecting your house from time-to-time for any signs of pest damages is still recommended.
Leave your pest problem to the top pest and termite control experts to ensure a safe and effective way of keeping your house free from unwanted pest invasions.
Patriot Pest & Termite Control in Prescott Valley is here to help you with our high-quality pest control services.
We are a locally owned and operated pest and termite control company in Prescott AZ with an overall 75 years of experience!
Our pest control pros will advise you on the best treatment possible for your situation. Patriot Pest Control specializes in a wide range of residential and commercial pest problems including termites, rodents, scorpions, ants, cockroaches, and more!
Get in touch with our customer care now to know more about our pest control services and get your house treated soon by the top pest control company in Prescott, AZ!
Do you have any questions regarding pest control and termite treatments? Leave a comment and share your thoughts with us!